The Choice for Safety Is CLEAR: Nano Magic's Anti-fog Dry Cloths
Both being able to see well and not having debris get in your eyes are essential to those keen on avoiding eye injuries at work. Unfortunately, the two often feel mutually exclusive. For example, you may find that your lab safety glasses fog up all the time, which makes seeing a challenge. Unfortunately, if you should decide to abandon wearing glasses for safety altogether, you are at a high risk of serious injuries.
If you are interested in learning how to prevent eye injuries while still wearing face shields, manufacturing safety glasses, or construction safety glasses, for example, Nano Magic provides an Anti-Fog Dry Cloth wipe that you can take with you wherever you go. These wipes provide a crystal clear layer of anti-fog protection, helping to make your vision clear as you wear your protective eyewear.
Eye Importance and Injury Considerations
Whether it's eye protection in the lab or eye protection on the construction sites, you should never underestimate the importance of personal protective equipment (PPE) in the workplace. You may think that your supervisor reinforcing the importance of your face mask or face shield is overbearing, but workplace safety is everyone's responsibility and it helps to keep you in good health.
Now, you may say to yourself that safety measures such as anti-fog wipes for glasses aren't necessary as you are yet to be injured without your protective eyewear. Count yourself lucky as about 300,000 eye injuries put people in the emergency room annually in the United States.
You can't ignore the numbers:
80% of the impressions you form come through sight. What's more, your eyes are the primary organ that is most likely to keep you out of danger!
90% of eye injuries are estimated to have been preventable had proper eyewear been worn.
45% of all head injuries that result in missed workdays are eye-based. The total across time-off, medical bills, and compensation for these totals about $300 million annually.
25 – 44-year-old men make up 80% of the workplace eye injury total.
Construction, manufacturing, and mining industries account for 40% of all on-the-job eye injuries.
The Problem With PPE in the Workplace
So, why are employees so turned off from wearing the proper PPE that is required of them? A recent study that involved retail, service, and construction workers can provide some level of context. Everyone who participated reported that fogging was a major reason for not wearing the protective eyewear. In fact, 55% of them said if there was an anti-fog design present, they would better comply with the requirement.
What if there were an anti-fog microfiber cloth that prevented the PPE from fogging up? Well, Nano Magic has entered the chat: introducing Nano Magic's Anti-Fog Dry Cloths.
The Science Behind Nano Magic's Anti-Fog Wipes
The formula that is baked into the dry cloth wipes was originally developed to help US Navy Seals maintain clear vision even in the harshest of weather conditions. This is all achieved with an anti-fog composition that temporarily bonds with your lenses to yield a manipulative film. On a molecular level, it manipulates fog advantageously to help preserve crystal clear vision. Over the past 15 years, Nano Magic has been further developing this formula for everyday use by everyday folk.
Nano Magic's Anti-Fog Wipes Reviews
What do these everyday folk have to say about the anti-fog dry cloth wipes? Here are a couple of reviews to indicate how they feel about the product:
"I noticed a world of a difference…When your feet are being held to the fire, I would go with Nano Magic." (Joe Roth, Warren Fire Department, Firefighter & Paramedic)
"I have tried the cheapest to the most expensive sprays and wipes. This is absolutely the only one so far that does not disappoint. I applied it to my glasses while working out and 18° weather and not once did my glasses fog up while my mask was on. Five stars all the way you will not be disappointed." (Eddie L.)
Does the Application Require an Anti-Fog Spray?
If you've used other sprays or even our anti-fog spray for your glasses before, you may be a bit concerned with how this dry cloth wipe is supposed to work. Do I need to buy a spray as well as the dry cloth?
The answer is no! You should certainly have a quick look at the instructions, but it boils down to this: exhale deeply on the lens to leave a foggy moisture, gently rub the cloth on the moisture to "activate" the formula baked into the dry wipe, and voila! You can slip the dry cloth back into its foil packaging and re-use the wipe up to 10 times, making a 5-pack good for up to 50 uses per box! Beat that!
Say Goodbye to Foggy Glasses with a Silicone-Free Formula
Unlike competitors, a silicone-free formula is used for Nano Magic's Anti-Fog Dry Cloth wipes. Unlike other anti-fog cleaners, there is no hazing or streaking left behind after proper application. Nano Magic's formula is safe to use on all lenses, goggles, and face shield surfaces.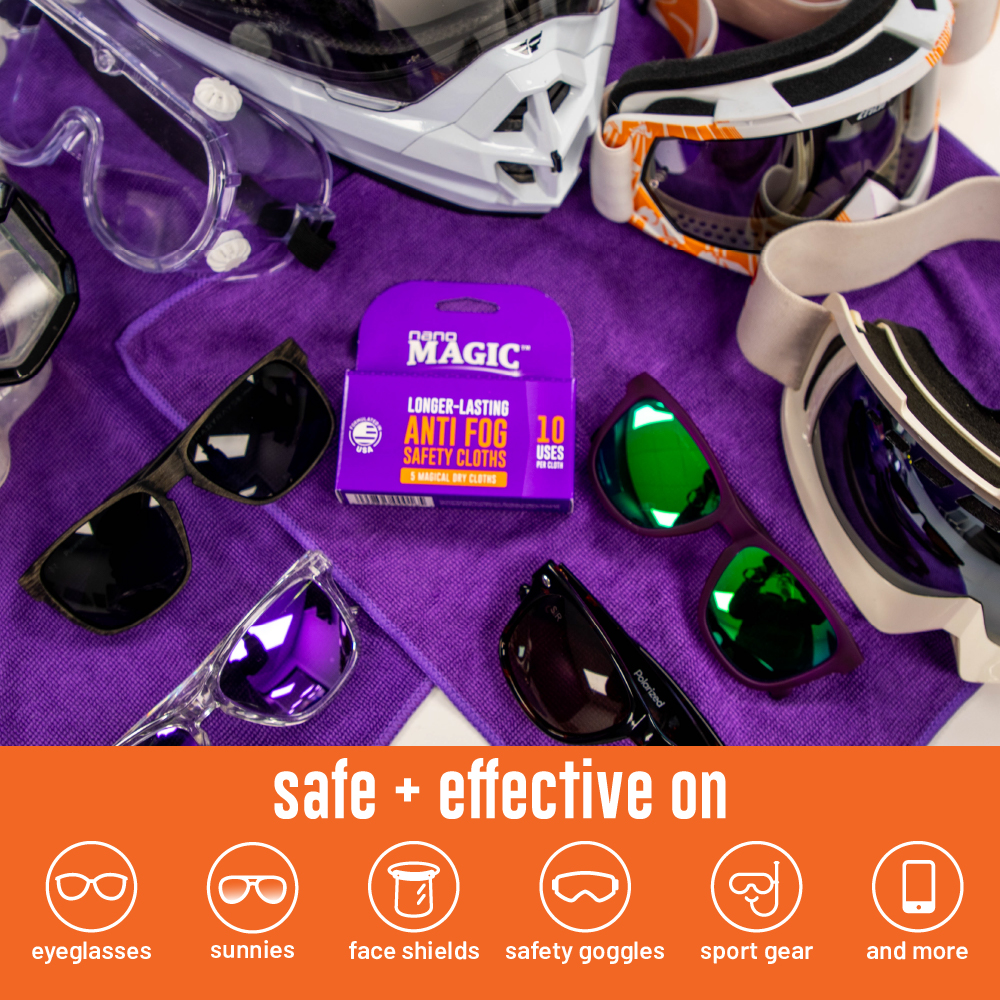 What can the Nano Magic Dry Cloth Wipe Be Used for?
If you're looking for an anti-fog cloth for your glasses that can be used across multiple applications, this is the product you're looking for. Some of the visual PPE it can be used on include:
Face shields
Mining glasses
Manufacturing glasses
Lab glasses and goggles
Construction glasses
As well as:
Eyeglasses
Sports goggles
Camera lenses
Mirrors
A Product of Experience
An unimaginable amount of attention to detail and great pride goes into each anti-fog wipe. As with all of the products at Nano Magic, the testing standards present for both cleanliness and quality are incredibly rigorous to ensure that your products are of top quality.
Speaking of other products, Nano Magic is kind of a jack of all trades, specializing also in home, auto, screen, and lens cleaners. Nano Magic works in the science of nanotechnology in order to make products perform faster, smarter, stronger, and cleaner to make everyday life better for people and the planet.
The Right Choice is CLEAR!
You should never underestimate the importance of keeping your eyes protected in industries that may require it. Understandably, you may feel like disregarding your goggles because they won't stop fogging up. Rather than risking your own safety, consider using Nano Magic's Anti-Fog solution line to keep your lenses clean and your eyes safe. SHOP NOW – available as a dry cloth or travel-sized spray!
Supporting Nano Magic is supporting an American-Made company. Products are developed, shipped, and sold out of Detroit, Michigan. Follow the team on social media for product updates, features, and videos!