Kick-off is around the corner. The players are warming up, the crowds are chanting – hearts are about to be broken, and dreams be made- and you don't want any distractions when taking in all the action. The question is: is your TV screen ready or has your screen cleaner been a benchwarmer all season?
Look – we've all been there. In the long list of household chores, cleaning the TV can often get pushed aside, but not today! Football season is here- and so is the quarterback of quality screen cleaning.
Nano Magic has the ultimate defense against screen schmutz and grubby marks, and it can help you score big this year as the ultimate game-day host.
Whether the whole gang is heading to your place to watch the big game on the flat-screen TV, you are gearing up for an intense fantasy football season and need your laptop looking as sharp as a Jerry Rice snag, or you want to spruce up your smartphone for a better look at the betting tables, this MVP cleaning solution has your back.
The Ultimate Screen Cleaner Kit
Electronic devices are annoyingly prone to greasy marks, oily smudges, and other gunk – all of which are as unmissable as the half-time show at the Super Bowl. If you want people focused on the score rather than the big old fingerprints, then you need Nano Magic.
Nano Magic's Screen Cleaner Recharge Kit is the best choice for TV screens, phones, and whatever other device can connect you to the big game. It can even be used as a window cleaner for those long, vacant stares outside when the score doesn't go your way.
This screen cleaner kit is the Tom Brady of dust-busting solutions: it never quits, is a true MVP, and American-Made.
Why Choose Nano Magic?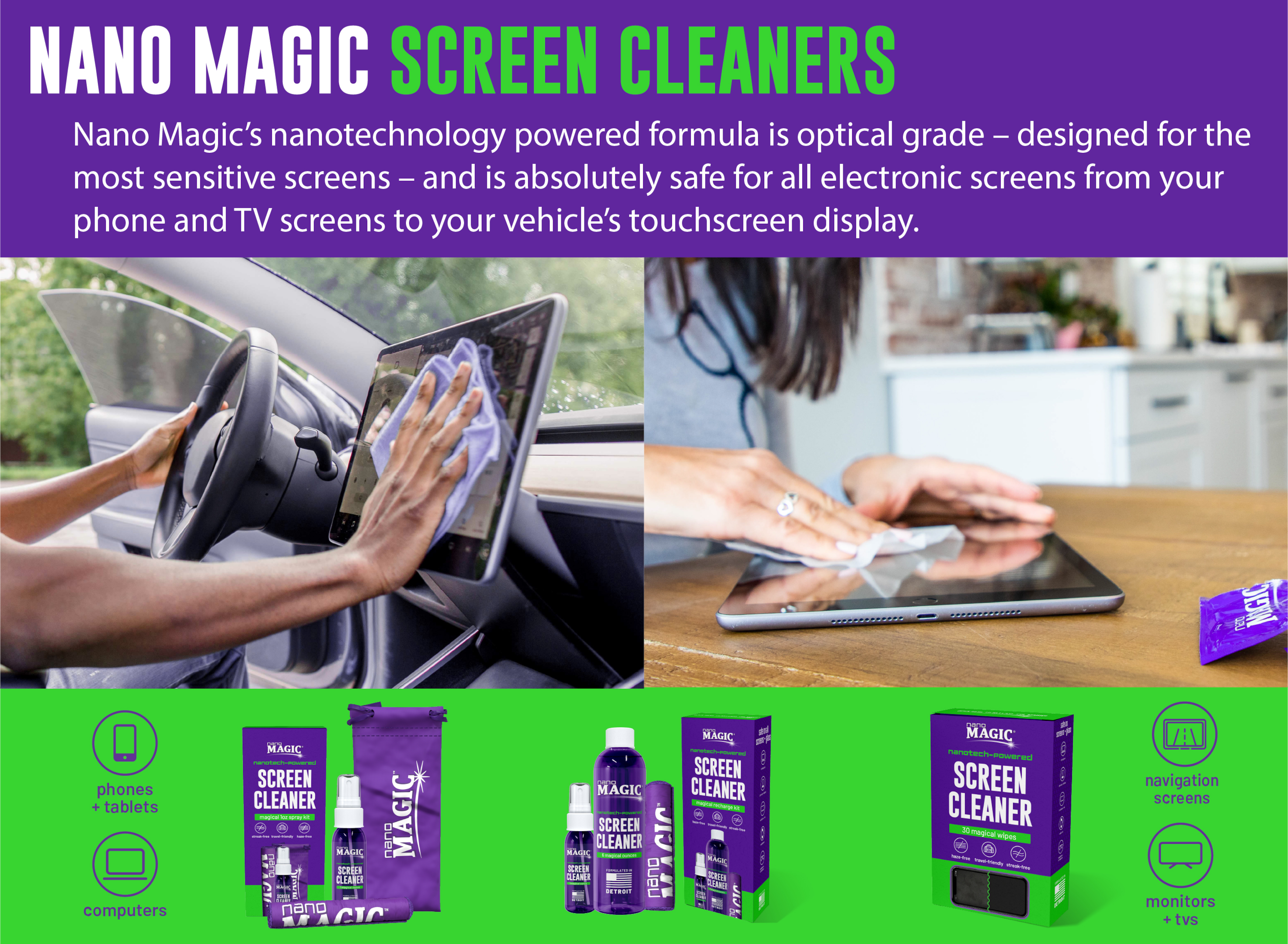 It Does More than Just Clean Your TV Screen
Some screen cleaners go for the trick play- a.k.a. they make you think the screen is clean but really they have just skimmed the surface. Plasma screens and OLED screens are notorious for holding onto grime and germs, and most cleaning products just move the smudges around.
Well, not Nano Magic. We're proud to say that we offer one of the best screen cleaners out there because our formula can break down the oils that cling to your screen without harming your screen like other harsh cleaners. That's the nanotechnology difference!
The Expertly Designed Microfiber Cloth is a Touchdown
The ultra-soft Nano Magic microfiber cloth is the linebacker of the team. Using paper towels or any old cloth from around the house can cause permanent damage to your TV screen, laptops, or tablet screens.
Microfiber cloths play defense by absorbing the dirt and grime and slowly releasing the cleaner evenly. They avoid delicate surfaces getting scratched or saturating the screen with liquid- perfect for use as a touchscreen screen cleaner. Cleaning electronics is safer and easier with one of Nano Magic's microfiber cloths.
Nano Magic is as American as the NFL Itself
Made and manufactured right here in the USA, Nano Magic is proud to call itself a home-grown screen cleaning hero. We're headquartered in Metro Detroit, Michigan. Yeah, go Lions!
A Powerful Screen Cleaner Safe for TVs, Laptops, and Cell Phones
All electronic screens can be sensitive to the harsh chemicals found in most cleaning products. Disinfectant wipes and general cleaning products could do more damage than good- but Nano Magic has the solution down to a science.
Our streak-free screen cleaner is PH-neutral, so it is perfectly safe for tablets, e-readers, MacBooks, 4K, Ultra HD, 8K, Projectors, Blackberries, and even your timeless Samsung brick phones 😜 Basically, it's ideal for cleaning all your electronics. Just use the spray bottle to apply the cleaner directly to the screen and wipe gently with the dry cloth (microfiber cloth only) for a scratch-free and streak-free clean. It's not rocket science.
The Reviews Speak for Themselves!
Check out the many five-star reviews for front-row proof that Nano Magic really is all that. Here is just one example of a happy fan:
"I use this on my TVs, my phone, and my glasses. Best screen cleaner I have ever used. It says it is streak-free, and they live up to that. Not one streak! A friend asked me how I got my screen so clean and streak free. I told her about this stuff and gave her one of the travel-size bottles that cake with it, and she loves it and will be ordering some too! I highly recommend this product. Works well on my glasses too."
FYI, we just got on Amazon.com and the reception has been amazing, to say the least.
Meet the Nano Magic Screen Cleaner Lineup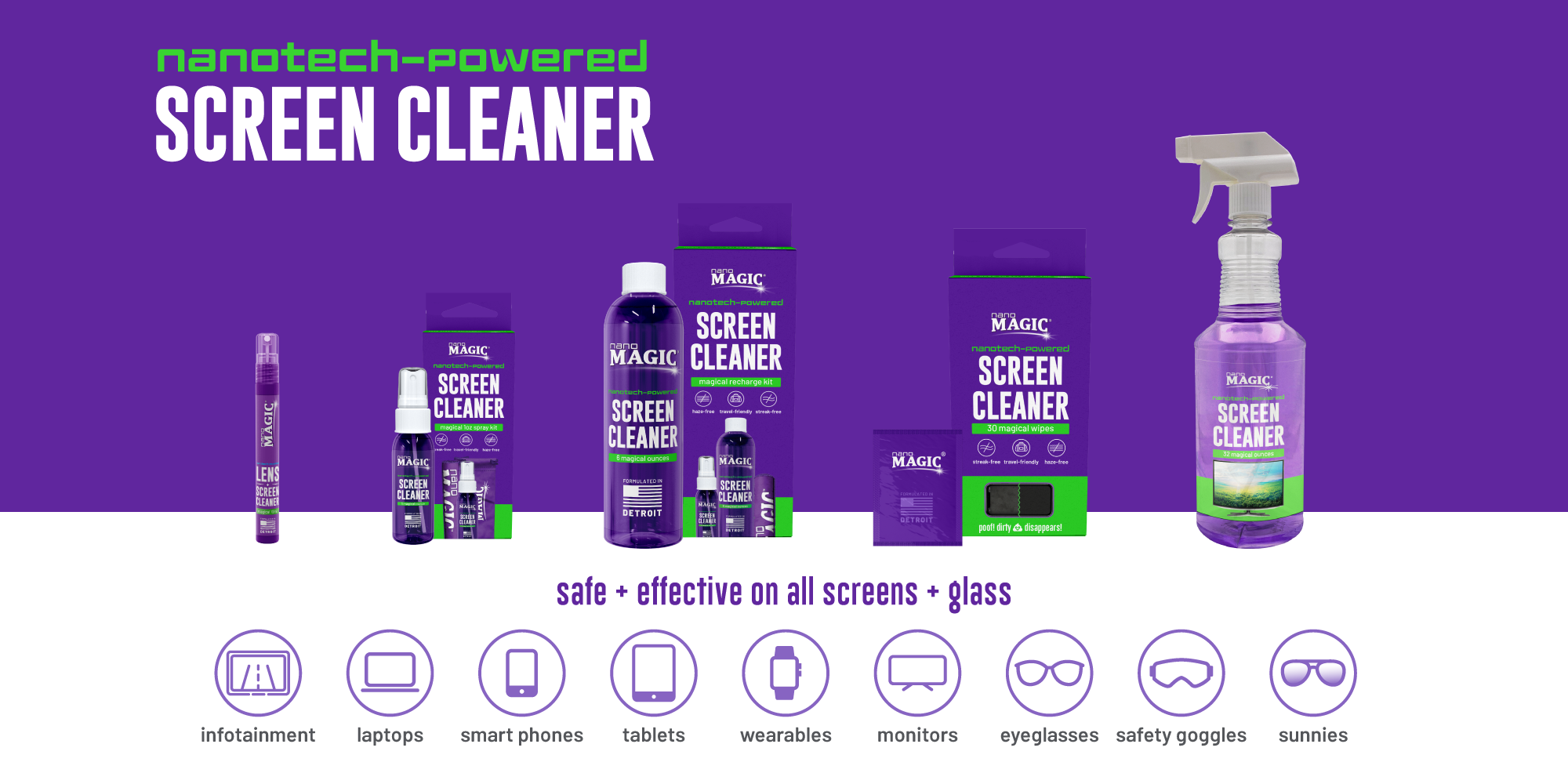 Travel-Sized One-Ounce Bottle
Our league-winning screen cleaner solution comes in a handy travel-size one-ounce bottle for convenience. Take it with you to an away game at a friend's house!
Six-Ounce Screen Cleaner Refill 
Don't worry about putting your 1oz bottle on the IR list when it drys up. We've got the medic standing by in a 6oz refill bottle.
Screen-Safe Microfiber Cleaning Cloth
No football team can perform at its best without the star defender. The Nano Magic microfiber cloth is an essential player. These microfiber cleaning cloths run paper towel, wet wipes and dusters off the field.
Convenient Carry Magic Pouch Kit Bag
Keep your trusty television screen cleaner kit safe in the Magic Pouch carry bag. The lightweight pouch is the best way to make sure you can always find your screen cleaner when you need it- and it gives you a place to store your damp microfiber cloth if you are away from home. If you leave it lying around, it could collect dust or get poached by another team!
Other Star Players Waiting on the Bench
You could also try the little peewee football champion- the 10mL Screen Cleaner Travel Kit. This mini spray pen is perfect for fans on-the-go.
If you want a fast and easy solution for giving your other devices a quick spruce up- try the streak-free screen wipes. They come in a pack of 30, so they are the perfect bench-warmer, ready to play whenever you need them.
Alternatively, if you are ready to play in the big leagues, go for the 18OZ Screen Cleaning Spray Kit. Everything in this kit is bigger and better than ever before. 18 ounces of premium all-purpose screen cleaner, two large microfiber cloths, and two bonus 1omL spray pens. Never run out of BIG SCREEN TV cleaner again!
SCORE This Football Season with Nano Magic's Screen Cleaner!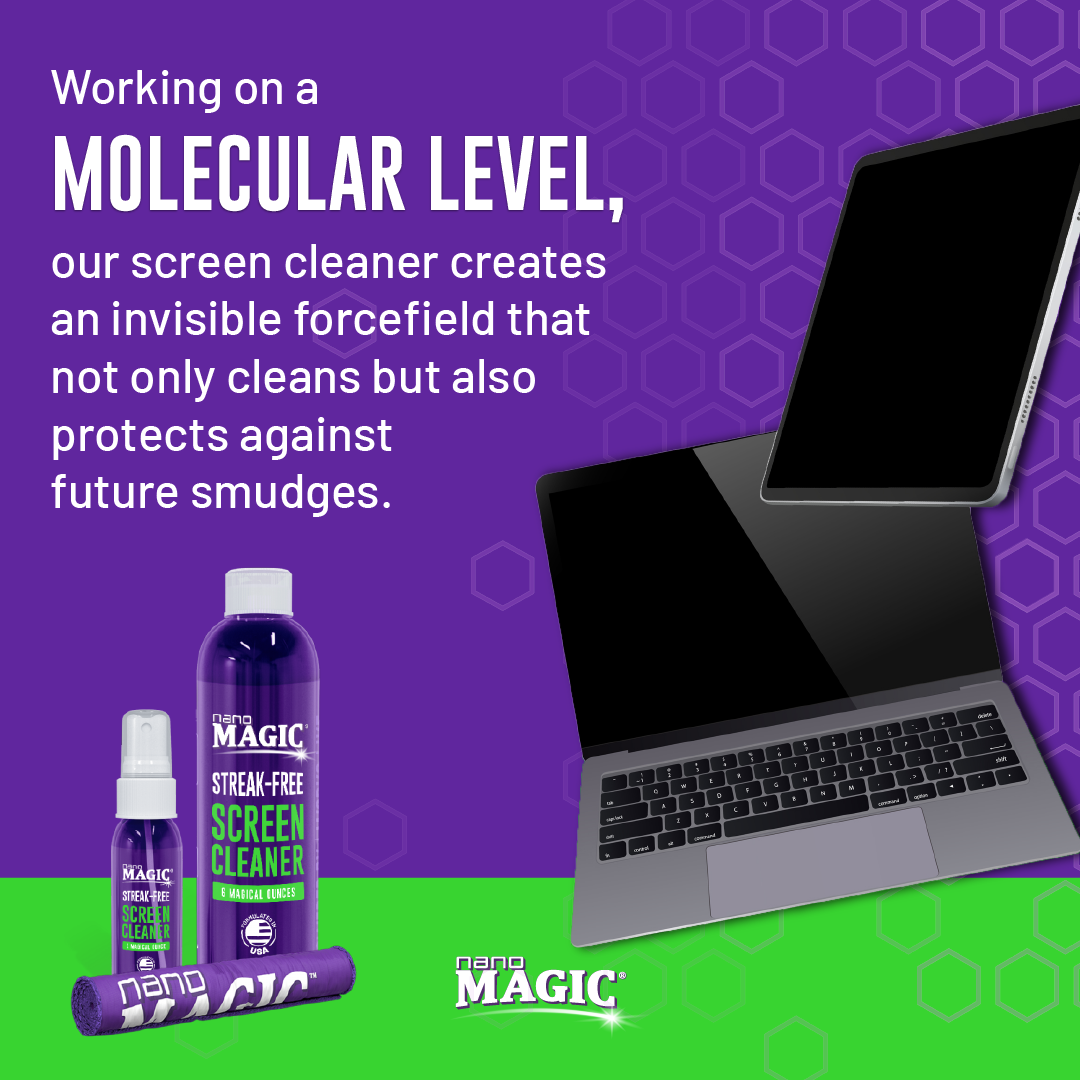 No other TV screen cleaner has a score sheet as impressive as the Nano Magic Team. Don't let your football season suffer because of dusty, oily, streaky screens! As the players prepare their minds and bodies, you should be preparing your screens and snacks. If you remember anything from this blog, let it be this: Leave the fingerprints for the finger food.
Like a good luck jersey, Nano Magic's Streak-Free Screen Cleaner is SURE to get you through this football season! Nano Magic is gentle on delicate surfaces but tough on dirt. Put him in, coach, and let him shine! Shop our entire screen cleaning line today: https://www.nanomagic.com/product-category/screen/
Supporting Nano Magic is supporting an American-Made company. Products are developed, shipped, and sold out of Detroit, Michigan. Follow the team on social media for product updates, deals, and cheeky content.