Get Schooled in Nanotechnology: Back to School Essentials for Your Lens and Tech
As the back-to-school season approaches, you may be thinking about the different items you need to get through the next term, semester, or year. Your wishlist may include electronics, books, and the like, but what about cleaning items? Essentials, such as a TV screen cleaner, other electronic screen cleaners, eyeglass lens cleaners, or even home cleaning products for glass surfaces probably never crossed your mind. Your mom's mind, definitely, but yours?
However, a clean environment is a healthy, efficient, and productive one. A Princeton University study found that clutter, specifically distracting clutter, makes it a lot harder to focus on one task at a time. We're looking at you, lava lamp. Additionally, LCD screens, tablet screens, and the like can eventually malfunction if their surfaces become filthy and buildup begins to get in the way. This is where the importance of having a safe cleaning solution for your electronics comes into play.
You're probably wondering, where do I even begin?! Well, like choosing your university electives, you've got A LOT of great options with Nano Magic. You can shop for microfiber cloth kits, travel-sized wet and dry wipes, screen cleaner spray, and more for your electronic devices.
What is Nanotechnology?
Nano Magic aims to consistently push the envelope further with Nanotechnology. Here is some BIO101 for you: nanotechnology creates an invisible force field across your screens, lenses, and surfaces using a molecular-level science that competitors can't touch. (No really, don't touch our screen we just cleaned that!) Such innovation means the products you use for your, say, glass surface or flat screen will be clearer, safer, and cleaner than the other guys.
For the scientists at Nano Magic, it's all about making everyday life for people better, while simultaneously looking out for the interests of the planet. Where can we sign up for the fast track to landing that job?!
Back to School Essential: Screen Cleaner Spray
The best screen cleaners not only rid your device of existing fingerprints and smudges, but they protect it from forming future schmuck. You may feel some hesitancy towards using a screen cleaner spray. Luckily, there is nothing to fear about getting moisture on your mobile screen as long as it is an ammonia-free solution like Nano Magic's screen cleaner! Nano Magic's screen cleaner has been crafted to clean even the most expensive electronic devices. It's great for use on:
Smartphones
Tablets & iPad Screens
Laptop Screens
Flat Screen TVs
Desktop Monitors
Everywhere you go, you'll want to have a screen cleaning kit with you! From scrolling on your phone while you wait for class, to taking notes on your laptop, Nano Magic's screen cleaner might just be more important than your daily planner! (Do people still use those things?!)
Nerd Out with Nano Magic's Lens Cleaner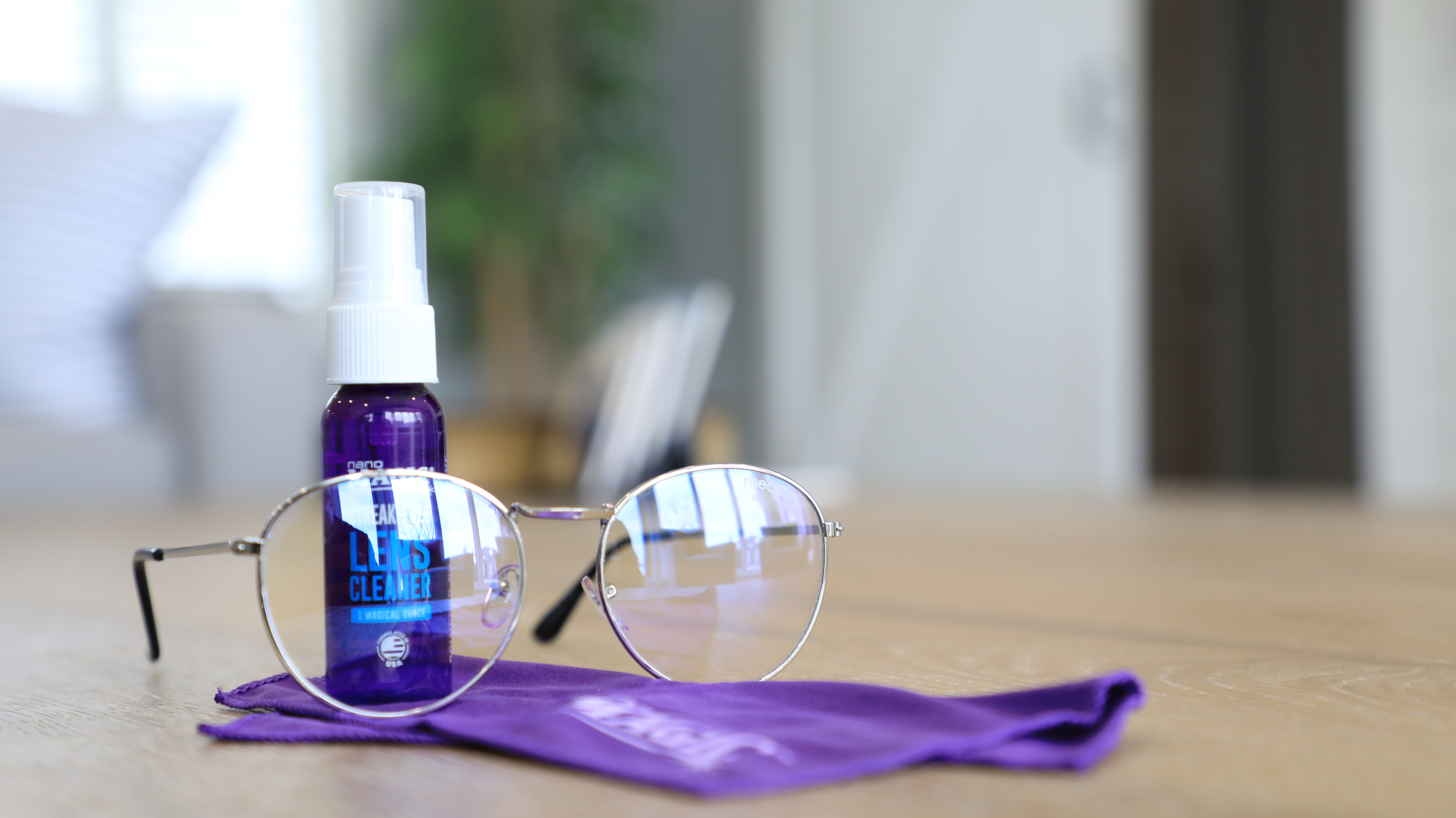 Remember when you were made fun of for wearing glasses and now people are purposely buying fake glasses?! Yeah, we're looking at you blue-light-users. Whether you're wearing prescription eyeglass lenses or other coated lenses, Nano Magic has a lens cleaning kit that is the solution to your smudged specs.
Unlike other solutions on the market, this formula can clean your expensive lenses without ruining their (must we say it again) expensive coatings.
It may sound a bit too good to be true but that is most certainly not the case. Here are a couple more of Nano Magic's inventions that would be perfect for you, student or not!
Streak-Free Screen Cleaner Spray
Streak-Free Screen Cleaning wipes

Great screen cleaner for smaller screens

Pocket-Sized Travel Kit
Streak-Free Lens Cleaner

Great for eyeglasses and sunglasses

Streak-Free Lens Cleaning wipes
Anti-Fog Line

Great for your goggles and face shields during labs!
Avoid These Items on Your Devices
So, you've heard a lot about what decisions are advisable as you seek out a lens and screen cleaner. What about the things you should stay away from? Unfortunately, there's a lot of inaccurate information out there telling people to use substances, such as hydrogen peroxide or water, when wondering how to properly clean your laptop screen. These recommendations, such as using a damp cloth or disinfectant wipes, can put your expensive devices and lenses at risk of malfunction. Just to keep you on the safe side, here's a list of products to avoid like the university spirit store before game day:
Rubbing Alcohol
Smartphones have a protective coating on their touchscreen that makes them more scratch-resistant called an oleophobic coating. An ingredient as harsh as alcohol as a screen cleaner can strip this away entirely.
Hand Sanitizer
We understand keeping hand sanitizer around to ensure you keep your hands clean, but please don't use this product on your screens and lenses! Ethyl alcohol is often present in these mixtures, which presents a great danger to that oleophobic coating.
Window Cleaner
Not only can window cleaner weaken your phone's protective coating, but it can also damage the device totally. If your cleaner of choice should have any abrasive agent as a part of its composition, don't be surprised if you find it leaving scratches on your screen.
Paper Towels
You should avoid using slightly damp cleaning cloths like a paper towel. Especially with moisture in the mix, paper towels can shred into pieces and scratch your screen. Most towels don't even hold a light to microfiber cloths. Luckily, Nano Magic's screen cleaner travel kits all come with their own microfiber cloths.
Don't Fail in Cleaning Your Screen!
While getting your hands on electronics and potentially new lenses for the back-to-school season is important, so is taking care of these items. Nano Magic's line of products combines the amazing science of Nanotechnology with the everyday desire to make people's lives easier. Dating in college is confusing enough, right?! Simplify your cleaning kit with Nano Magic – we have all the essentials for your lens and tech items! And if you're more of a visual learner, check out our latest commercial: https://www.instagram.com/p/ChaQgqNj29R/
Our best advice? No, not dating advice. Pay attention to what each product is intended for and the recommended approach to cleaning. This ensures that a solid job is done and that the risk of damage is minimized. For even more help to ensure that your computer, iPhone, LCD TVs, and eyeglasses are properly taken care of, you can check out these Nano Magic blogs below!
How to Properly Clean Your Computer Screen
Since your computer is a huge investment, it only makes sense to get the most out of it. If you're serious about extending the life of your PC, use the right computer screen cleaning wipes to keep it looking fresh and develop other good habits to keep its hardware humming for a long time. READ MORE
How to Make Your TV Screen Sparkle
There's nothing like an LCD or OLED screen that displays vivid colors and sharp details. If you want to enjoy better contrast, brighter whites, and darker blacks, you'll have to keep your screen clean. However, since modern TV screens are sensitive, soap and other household cleaning products containing harsh chemicals can wreak havoc on them.  READ MORE
Tips for Long-Lasting Eyeglasses Lenses
Did you know that around 8 million Americans have vision impairment due to uncorrected refractive errors? If you're one of the countless others who see the world through a pair of eyeglasses, you'll want to maintain clear vision by using the best anti fog spray for glasses. You'll also want to learn how to properly care for your specs.  READ MORE